The Employer Nomination Scheme (ENS) Subclass 186 Visa is for international workers who wish to permanently immigrate to Australia and have been offered a permanent position by a business in Australia.
If you're looking for a way to move to Australia permanently, Queensland Migration Practice can help you obtain a 186 visa by:
Helping you prepare and submit a strong application that meets all the government's requirements
Advising you through every step of Australia's permanent migration process
What is an Employer Nomination Scheme 186 Visa?
There are three streams (or pathways) that you can take to obtain an ENS 186 visa. Anyone wishing to apply should choose just one of these streams and make sure they fulfil that stream's requirements before submitting. The three streams are:
Direct Entry
Temporary Residence Transition
Agreement Stream
The Direct Entry Stream
To obtain an ENS 186 via the Direct Entry Stream you must be:
Nominated by your employer under this stream
A person who has only worked in Australia for a brief period of time or a person who has never worked in Australia, or;
A temporary resident who doesn't qualify for a visa under the Temporary Residence Transition stream
The Direct Entry Stream has stricter skills assessment and English proficiency requirements than the other two streams.
The Temporary Residence Transition Stream
This stream is for people who:
Currently hold a 457 visa and
Have worked under that 457 visa for two years
Are being nominated for a permanent position by that same employer
Those who are under a labour agreement are not eligible to apply through this stream.
The Agreement Stream
This stream is exclusively for those who are currently being sponsored by an employer through a labour agreement.
Applying for an Employer Nomination Scheme (ENS) 186 Visa
There are two stages in the ENS 186 Visa application process:
There are certain requirements that a nominating employer must fulfill. These include:
They must meet the relevant training requirements
They must be able to offer you a position that is full time, will be for at least 2 years from the day that your visa is granted and doesn't rule out the possibility of you continuing in that position after the mandatory two years has been completed
They must ensure that your working conditions (including your wages) are on par with those that are offered to Australian workers
They must be an active and lawfully operating company in Australia
There must be no relevant negative information about your nominating company
In addition to the above, there are also additional requirements if you are applying for a 186 Visa under the Direct Entry Scheme. If you're applying under the Direct Entry Scheme your nominating employer must:
Nominate you to fill a skilled occupation from the Consolidated Sponsored Occupation List
Be able to demonstrate a genuine need for the nominated position
Be able to show that the position is directly under the business' control
In addition to ensuring that your nominating company meets the government's criteria, when submitting your 186 Visa application, you must also meet several criteria. You must:
Be under the age of 45
Meet the national and state licencing, registration, membership or other qualifications your nominated position requires
Get the required mark on the English skills test
Pass medical tests and character checks
If you're applying under the Direct Entry Scheme you will also have to meet additional requirements, including:
Obtaining a skills assessment for the occupation you've been nominated to work in
Demonstrating 3 years of experience in the nominated occupation
Meeting a higher standard of English proficiency than the other two streams require
Finding a nominating employer that meets the extensive requirements set out by the government, then ensuring that your personal application is up to standard can be an overwhelming task.
At Queensland Migration Practice our job is to ensure that you submit your application with complete confidence, knowing that every piece of required information is provided and no detail has been overlooked.
What are the Advantages of Being a 186 Visa Holder?
ENS 186 visas are highly sought after, as they offer many benefits to successful applications. Some of the advantages of holding an ENS visa include:
The ability to reside in Australia indefinitely
The right to work or study in Australia
Access to Medicare – Australia's comprehensive health care system
The ability to sponsor relatives for permanent residence (if eligibility requirements are met)
The ability to travel in and out of the country unimpeded for five years after the visa's issue date
---
How Queensland Migration Practice Can Help You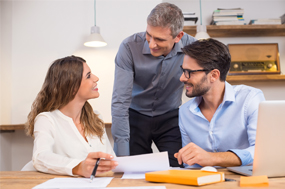 Do you want to obtain an Employer Nomination Scheme Subclass 186 visa but don't want to waste your time and money on an application that gets declined?
At Queensland Migration Practice, our skilled advisors have helped thousands of foreign workers make their visa dreams a reality by using our expertise to assist in the following ways:
Navigating Exemptions
The Employer Nomination Scheme Subclass 186 visa offers some leeway when it comes to the applicant's age and English language skills.
We'll help you identify exemptions that may apply to you, and apply for them accordingly.
For instance, you may be eligible for age-limit exemptions if you are:
A senior academic
A scientist, researcher or technical specialist
A medical practitioner who has been working for your nominating employer for 4+ years
The holder of a 444 New Zealand Citizen or subclass 461 New Zealand citizen's family member visa
A highly paid sponsored employee that's been working for 4+ years in Australia
Subject to a special labour agreement
Or, you may be eligible for English language proficiency exemptions if:
You earn wages taxed at the top individual income rate
You have a passport from New Zealand, Canada, the USA, the UK or Ireland
You're applying under the Transition stream and have completed 5 years of study with all tuition in English
At Queensland Migration Practice, we know the inner workings of the immigration department and will help you submit an exemption application that has the best chance of a positive outcome.
Documentation
Using our comprehensive understanding of governmental procedures and processes, we ensure that all of your Employer Nomination Scheme Subclass 186 visa application's documentation is perfect before you submit it.
The documents we'll help you obtain and prepare include:
Certified copies of identification papers
Certified translations of non-English documents
Required police certificates or background checks
Proof of industry certification, registration or licensing
Employer references and resumes
Proof of English language proficiency
Matching Skills with Employers
If you are interested in obtaining a Employer Nomination Scheme Subclass 186 visa, but you don't have a nominating employer, Queensland Migration Practice can help you:
1.       Submit an Expression of Interest through the government's SkillSelect service. The government and employers can then see your EOI details and nominate you if you wish.
Find an employer using our strong connections with various regional companies.
Fees & Charges
Failure to lodge your application with the right visa application fee can result in a swift application denial. We assist our clients with determining how much to pay, when to pay, and who to pay.
Secondary Visas
Do you have a family member who you would like to sponsor with your existing RSMS 187 visa, or do you want to discuss future visa sponsorship options? At Queensland Migration Practice we'll use our comprehensive understanding of the secondary visa application processes to ensure you don't have to be separated from your loved ones for any longer than is absolutely necessary.
Changes to Your Circumstances
If, for any reason, your living or working situation changes during the application process or after your visa is granted, you may need to let immigration know. Queensland Migration Practice can advise as to the best steps to take should your circumstances change.
Additional Visas
If your current visa is about to expire, we will advise you as to which visa options will allow you to stay in Australia, given your unique state of affairs.
---
Contact Queensland Migration Practice Today
Have you been considering applying for an Employer Nomination Scheme (ENS) 186 Visa, but aren't sure where to start?
At Queensland Migration Practice, we take the hassle out of putting together successful visa applications. Whether you need help finding an employer to nominate you, gathering and completing all the necessary paperwork, or passing your English or skills assessment, we are here to make each and every process simple.
It is important to note that there are significant changes that will be implemented to Subclass 186 visa. For this reason, if you are planning to lodge a Subclass 186 visa application, we suggest to get in contact with our office as soon as possible.
To discuss your visa options and find out if the Employer Nomination Scheme (ENS) 186 Visa is right for you, contact Queensland Migration Practice today.
We'll answer any questions you have and give you the best advice.
Just dial (07) 3360 0844 or email [email protected] and one of our friendly consultants will respond to your enquiry as soon as possible. With our help you'll be on your way to obtaining an Employer Nomination Scheme (ENS) 186 Visa as fast as possible!